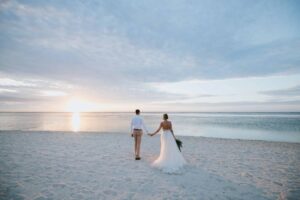 Have you just gotten engaged? CONGRATS! Is a destination wedding may be on your horizon? Let's talk about what they are!
A destination wedding refers to a wedding that takes place in a location away from the couple's hometown or usual place of residence. There are several reasons why some couples choose to have a destination wedding:
Scenic Locations: Destination weddings often take place in picturesque settings like beaches, mountains, historical landmarks, or exotic destinations. Couples who want a unique and visually stunning backdrop for their wedding might opt for a destination wedding.
Intimate Gathering: Destination weddings tend to have a smaller guest list compared to traditional weddings, as not everyone can travel to the chosen location. This can lead to a more intimate and meaningful celebration, surrounded by close family and friends.
Combining Wedding and Honeymoon: Many couples see destination weddings as an opportunity to combine their wedding celebration with their honeymoon. This can save time and money on a separate honeymoon trip and allows the couple to start their married life in a romantic and memorable setting.
Reduced Stress: Some couples find that planning a destination wedding can be less stressful than organizing a large, traditional wedding at home. Many resorts and venues offer wedding packages that include planning services, which can alleviate some of the stress of coordinating multiple vendors.
Personalization: Destination weddings can be tailored to reflect the couple's personalities and preferences. Couples have more creative freedom to customize their wedding details, from decor to themes, as they are often not bound by the same traditions as they would be in their hometown.
Smaller Budget: While destination weddings can be expensive, they might also be more cost-effective in certain cases. By having a smaller guest list and combining the wedding with the honeymoon, couples can allocate their budget more effectively.
Unique Experience: Destination weddings offer a unique experience for both the couple and the guests. It's a chance for everyone to explore a new place and create lasting memories together.
Avoiding Family Pressure: For some couples, a destination wedding can be a way to avoid family or cultural pressures that might arise from having a traditional wedding at home.
Would you like to chat more about some options? That is what we are here for! Sign up below for our complimentary  Zoom call and we can share how we can help!
https://calendly.com/susanstravel/travel-advisor-consultation-destinationwedding