Club MoBay VIP Arrival and Departure Service
Club MoBay VIP Arrival and departure service is something you simply must include when you travel to Jamaica!  You will be greeted as you exit the plane and fast tracked thru immigration, assisted with luggage retrieval, fast tracked thru customs and then you can take a few moments to freshen up in their arrival lounge.  Here you can enjoy complimentary WiFi, light snacks, rum punch and beer, as well as a well clean restroom before you transfer to your resort.  On the return, once you have checked in with your airline you will be fast tracked thru Security, then you are able to relax in one of their comfortable and well appointed departure lounges.  Enjoy a full stocked top shelf bar, cappuccino/coffee, assorted food items such as: sushi, sandwiches, salads, soup, Jamaican Patties, sweet treats and more.  Plus, you have WiFi, video games for the kids, tv's and if you want to relax even more they have spa where you can enjoy one more massage before you leave paradise!  All for $80 per adult/children 13 and over.  Children 2 – 12 are $40 per person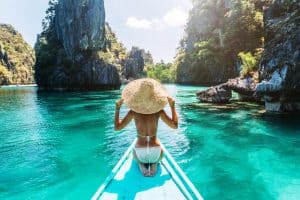 Passports
Additional Resources
PASSPORTS:  If you booked with us, you will have already checked your passport expiration date.  Most destination will require your passport be valid for a minimum of 6 months from your return home date.  You must be sure to carry your passports with you when you travel.  Do not pack them in your checked bag.   Please be sure to make two copies of all your travel documents, including the full front page of each of your Passports. Leave one copy at home with a friend or family member, and carry the other set in a different location than the originals.  This way, if something should happen and you lose your originals, it is easier to replace them if you have proof of the original documents. NOTE: be sure your passport has not been torn or marked on. You could be denied entrance to your destination.  NEVER get "fun" stamps in your passport, only people that can stamp your passport are those in immigration.
DEPARTURE FLIGHT INFORMATION:  For those traveling on non-stop international flight, please arrive at the airport 3 hours before your scheduled departure time and 2 hours prior for flights with a domestic connection.  If you are late arriving to the airport you stand the chance of losing your seat on the plane. If you miss your flight, you will have to ask the agent if you can fly stand-by on the next flight out. Insurance does not cover you for missing a flight due to late arrival unless there was an emergency on the way to the airport! Avoid this frustration and allow plenty of time to park, get your boarding pass, and clear security. It is easier to relax and have too much time, than to be rushed and worried that you will miss your vacation and lose out on the cost as well!
CARRY ON RULES FOR POWDERED ITEMS:  Please be aware of the new rules for carrying on powders and granulated substances.  You cannot carry-on more than 12oz, total of any powder or granulated items. This includes any purchases made in the airport, after you have cleared security.  Bags will be subject to inspection at the gate.  Anything larger 12oz must be stored in your checked bags.
SECURITY AND FOOD ITEMS:  Please be aware that security is now asking you to remove all food items from your carry-on bags when you go thru the screening process.  You can carry food with you, it just must now be removed from your bag and placed in the security bin. This includes all candies, gum, snacks, etc.
CARRY ON 3-1-1 RULES:  Please remember the carry-on rule for liquids and gels.
CARRY ON ELECTRONICS:  TSA has a new rule for some international flights that require all electronics be fully charged and able to be turned on.  If you cannot turn your electronic item on you may be forced to leave it behind or possibly miss your flight as TSA can deny you entry through security until you can power up your electronics.  So plan ahead, and have all items fully charged!
CHECKED BAG FEES:  Most airlines are now charging for checked bags. Check with your travel agent or your airline to find out the checked baggage fees.
MEDICATION: If you are taking any prescription medications, you need to bring them in their orignal bottles, and be sure to include several days extra in case you have any travel delays.  It is imperative that you check with your pharmacy or physician to find out if there is any risks from sun exposure or excessive alcohol consumption.  The sun and the alcohol you will enjoywhile on vacation can cause severe side effects when taking certain medications.
IMMUNE DEFENSE: We recommend taking an over the counter vitamin drink, such as "Immune Defense" twice a day starting about 2 weeks before your vacation and during your vacation, as this may help keep you from catching colds before and during your trip. Multi-vitamins and 50mg of Zinc each day is also a good idea as these can even help ward off flu virus's.  We also recommend taking probiotics, before and during your vacation as that can help your body adjust to the rich/different foods you will be enjoying.  PLEASE do not take any of the above before consulting with your doctor or your pharmacist.  Some over the counter vitamins and supplements can cause issues with prescription medications.
PEN & IMMIGRATION FORM! If you are traveling internationally, you will need to have a pen with you on the plane! You will need this to fill out your customs forms and immigration forms. You will be given these forms on the plane by the flight attendant. Keep them with you as they will be needed to enter the country. I suggest that you put them with your passport. When you clear immigration, they will tear off the bottom part of your form and hand it to you. Put this with your passport, as you will need it when you leave the country. If you lose it, some countries will charge a hefty fee ($200) to re-issue another one, so do not lose it!
MONEY/CREDIT CARDS: It is highly recommend that you travel with a minimum amount of cash. Typically I recommend no more than $200 in cash in small bills. Anything you buy at the resort, at off property stores, tours, etc you need to use your credit card (not a DEBIT card). You won't need cash for anything but little souvenirs and tips. Be sure to alert your credit card company that you will be out of the country so they don't shut your card off when they see charges outside of the US. We strongly recommend that you do not use a Debit Card while on vacation. Should an unscrupulous person get a hold of your card number they could wipe out your entire bank account while you are on vacation.
RESORT CHECK-IN TIME:  Most resorts will have a check-in time of 3pm.  If you arrive at the resort before this time, you will go ahead and check-in and if your room is not ready just leave your bags with the bellman and go enjoy the resort. We advise you pack a beach bag with your sunscreen and swimsuit in your checked bag.  Grab it, change your clothes in the restroom and go hit the beach or the pools, bars, restaurants, etc until it is time to pick up your room key.  PLEASE do not sit in the lobby and wait!  Go enjoy the resort!
CREDIT CARD DEPOSIT AT RESORT:  Please note that your resort may require you to present your Passport and a major credit card at time of check-in.  The credit card will go on file for any extra's you may purchase while on property.  Most resorts operate on a cashless system, so any gift shop purchases, spa treatments or other expenses are typically charged to your room.  If you use a debit card the resort can and often will put a "debit" hold on your card when you check in for as much as $500. This is to ensure that you have funds in your account for any incidentals that you may charge while you are at the resort.  This could tie up any funds you were planning on using for your trip, so please be sure to travel with a credit card.
DRESS CODE FOR DINNER!  Be sure you are aware of the specific dress code requirements for your resort. Most resorts will have at least one restaurant that will require men to have on a collared shirt, pants and closed toe shoes.  Please contact me if you have questions about the dress code at your specific resorts dress code.  I can also give you some great ideas on what to buy that is comfortable to wear and affordable.
TOURS:  We do not recommend purchasing any tours from vendors on the beach.  These tour companies are not insured and may not be a legitimate.  Please visit the tour desk in the lobby of your hotel to book your off property excursions.
TIPPING:  All inclusive resorts always include tips, but tipping extra is at your own discretion. Remember these employees work hard for little wages compared to the US so if you feel you are getting exemplary service remember a couple of dollars would be very much appreciated.   Some resorts (Mainly "Couples", "Sandals" and "Beaches") do have strict no tipping policies, so if you are not familiar with the tipping polices at your resort please contact your travel agent for more information. Porter/Baggage handlers at the airport are not part of your all inclusive package. If you wish to have to them assist you it is recommended that you tip $1 for each bag they handle. Bus/transfer drivers are not employed by the resort, so be sure to tip them. We typically tip about $2 to $3 per person each way.
RESORT TIME SHARE: Many resorts have time-shares or "Vacation Clubs" as many of the time-shares are called. I have alerted the resort to mark your booking as "Do Not Approach" but should you get approached by anyone wanting you to attend a "resort tour" or "informational meeting", "receive a free tour or free beach bag" etc, just ignore them as these are time share presentations and they are high pressure sales and you will loose precious resort time and you may end up signing a legally binding document that you will not be able to get out of.
FRIENDSHIP GIFTS: while walking the beach you may be offered a free bracelet. No matter what they say it isn't free and as soon as they put it on your wrist they will ask for a "TIP".  If you don't give them any money they will cut the bracelet off.
WATER!  While many resorts now have filtered water in the bathrooms, on the safe side we encourage you to avoid ingesting any water from the bathroom sinks and while taking a shower or bath.  Please use the provided bottled water to rinse your toothbrushes, rinse your mouth and make your coffee.  Water that is provided for you to drink at the restaurants and bars, as well as the ice that is served with them are made from filtered water so they are safe to drink.  If you do any off property excursions, be sure to only drink from bottled water, or water that is provided that the tour operator says is filtered.  Dining at any off property restaurants will also be safe, as they will use filtered water. I would avoid buying any street food with raw vegetables and fruit as they are most likely not washed with filtered water.  Ingesting this water doesn't mean you will get sick, it just means you could get a case of Montezuma's revenge.  Best to be safe, than miserable.  NOTE: water in Jamaica and Aruba is safe to drink on and off property.
DRINKING ALCOHOLIC BEVERAGES: It is very easy to over drink while enjoy your all-inclusive vacation. Please use caution when drinking alcoholic beverages and be sure to drink plenty of water during the day.   Alcohol is absorbed quickly into the blood stream when you are dehydrated and warm. It is especially easy to over drink on the first day of your vacation.  Most people get up early for their flights, drink very little water while traveling, eat less than normal and then when they arrive at the resort they are greeted with champagne or an alcoholic beverage and then everyone is excited to get to the pool and start having fun. Please remember that flying dehydrates the body, add on to that the lack of food, exhaustion and excitement can easily make you over drink.  Please drink responsibly.
LIQUOR AND LIQUIDS PURCHASED ON VACATION:  Any liquids purchased while on your vacation must be stowed in your checked bag before you arrive at the airport.  If you are at the airport and you want to purchase an item that contains liquids, such as snow globes, insulated cups with liquid in them, liquor, etc.  Please check with your gate attendant before you make the purchase.  Most destinations will not allow you carry on any liquid that did not clear security with the 3-1-1 rules.  This can even pertain to bottles of water or beverages purchased at restaurants.
SAND:  If you like to bring home sand from your vacation, you can if you only bring home a small amount.  Put about ¼ – ½ cup in a small ziplock bag and put it in your checked bag.  Do not carry it on the plane with you.  Please be aware that your bag will likely be inspected by TSA as they will want to swab the sand to be sure it is safe to bring into the US.  There is a chance they will confiscate your sand.
FLIGHT HOME INFORMATION:  Please be sure to check with tour desk at least 48 hours before your scheduled flight home.  They will reconfirm your pick-up time and tell you when and where to meet your transfers.  If you are doing private transfers, please confirm with your driver when you arrive at your destination as to what you will be picked up.  PLEASE heed their advice as to when you should be picked up.  They will know what kind of traffic to expect at that time, and how crowded the airport will be.  Remember, it is better to get to the airport and have time to spare, than it is to rush and possibly miss your flight.
ENTERING THE USA:  We highly recommend that you download the US Governments, "Mobile Passport" app to your phone. https://mobilepassport.us/ Only one member of your traveling party needs to download the app.  Open it and put in all your required information before your trip.  DO NOT SEND IT!  You can only send the information when you are no less than two hours from entering the USA. I recommend to have the app open and ready as you are about ready to land, then as soon as your touchdown, hit SEND.  Once you deplane and enter the airport, watch for signs for "Mobile Passport".  This will save you time and hassle as you enter the USA.
For those that are unfamiliar with the process of entering the USA: once you deplane, you will have to go through "Immigrations".  Most airports are now using kiosks for Immigration.  You will need your passports, so be sure you have them out and ready.  Just follow the prompts on the kiosks, take your printout and your passport and follow the directions/crowd to exit the Immigrations room.  From there you will go to Baggage claim and collect your checked bags Take your bags and proceed to "Customs".  Just follow the signs/crowds to Customs. Once you have cleared Customs you can exit the airport if you are not making a connection.  If you are making a connection, you will need to re-check your large checked bags.  Typically you will see someone standing in front of a conveyor built ready to take your checked bag.  Next step is to follow the signs for connecting flights. You WILL have to clear security again, so be ready!  Once you have cleared security proceed to your gate.
SEA SHELLS – it is illegal and unwise to bring home any type of seashells from destinations outside of the US. Even those that are being sold by vendors on the beach and in markets are illegal. Be safe, and wise…take a photo of the pretty shell, and leave it for the crabs and conchs to re-use. If they are discovered by customs they will be confiscated as seashells often contain tiny bugs that are not native to our country and could end up causing disease outbreaks, etc.
CAMOUFLAGE: wearing of camouflage clothing outside of the United States is not advisable, and in some
countries illegal, so please do not wear them when you travel nor should you pack any to take with you.
SARGASSUM:  Traveling to any beach destination means you may encounter some Sargassum.  This is a floating bed of seaweed that normally stays out to sea.  Due to ocean currents, the Sargassum can wash ashore anywhere at anytime.  This is a phenomenon that is unpredictable as to when it will strike, or how bad it will be.  One day, your beach may be perfectly clear and the next day you could have mounds of Sargassum.  Resorts work quickly to clear the beach, so please be patient with the resort should your resort experience this unfortunate act of Mother Nature.
ROBES & SLIPPERS:  many resorts provide robes in the closet for you to enjoy during your stay.  These are not for you to keep.  If you like the robes, you can often by the same ones in the gift shop.  If there are slippers in your room, they are yours to keep if you so wish, otherwise they will be discarded.  If you receive any other clothing item in your room, such as hats, shirts or even beach bags, unless there is a tag on them that say they are for your use only during your stay, then they are gifts provided to you by the resort.
SLIPPERY FLOORS:  most resort rooms have beautiful tiled floors, please use the house shoes supplied to you, or your own shoes while walking around the room. We also STRONGLY encourage you to wear rubber soled shoes when walking to/from the pool area, as the pool decks and sidewalks can become very slippery from rain, pool water, sunblock, etc.
If you have any questions, please don't hesitate to email us, or call us